Help In The Moment at 360 Communities Food Shelves
Ellie came to the Rosemount Family Resource Center for food support. She and her three-year-old son moved out of an abusive home and in with her parents on New Year's Eve. It took all of her courage and strength to leave her husband so that her son could live and grow in a safe environment. Her husband withheld any financial support and Ellie hoped to contribute to her parents'household. 360 Communities staff connected Ellie with the food shelf where she accessed healthy food options for her family. They also helped Ellie with safety planning and provided Lewis House violence prevention resources.
Karena had stage four cancer. She was receiving hospice care and her family was coming to town to be with her during her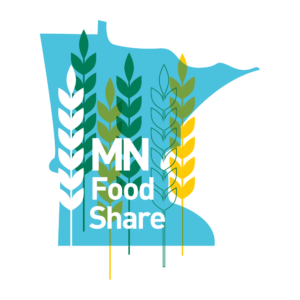 final stages of life. She came to the Rosemount Family Resource Center not because of her health, but because she was worried she didn't have enough food in the house for extended family. Our food shelf volunteers helped her shop and made sure she had everything she needed for her family: fresh produce, chicken, milk and dessert.
360 Communities' staff and volunteers meet everyone who comes in for help where they are, with an understanding of the anxiety and stress that crisis brings and a motivation to create some relief and hope for them.
Hope for the Future this March
Minnesota FoodShare's March Campaign is the largest annual food drive in the state and your best time to invest in healthy food support for families.
Every donation of money or food made to 360 Communities' network of five food shelves during March will qualify us for matching grant money from Minnesota FoodShare, stretching your donation dollars. Our goal is to raise $100,000 and 100,000 pounds of food during the month.This drive will help us bolster our food shelves in time for the high demand summer months when children are out of school and families do not have access to free or reduced-priced lunches.
Here are ways to help:
Donate at 360Communities.org. 360 Communities' access to discount food programs like Second Harvest Heartland turns every dollar you donate intofive dollars of purchasing power.
Run a food or fund drive for 360 Communities during the month of March. You can find food drive resources at 360Communities.org, includingfood drive bin flyers, hunger statistics, and more. You can also donate online.
Tell your family, friends, neighbors and coworkers about the March Campaign and 360 Communities!
Thank you!Your participation in the March Campaign will help ensure our neighbors have access to the healthy food and support they need to succeed.